Raspberry Ganache Tart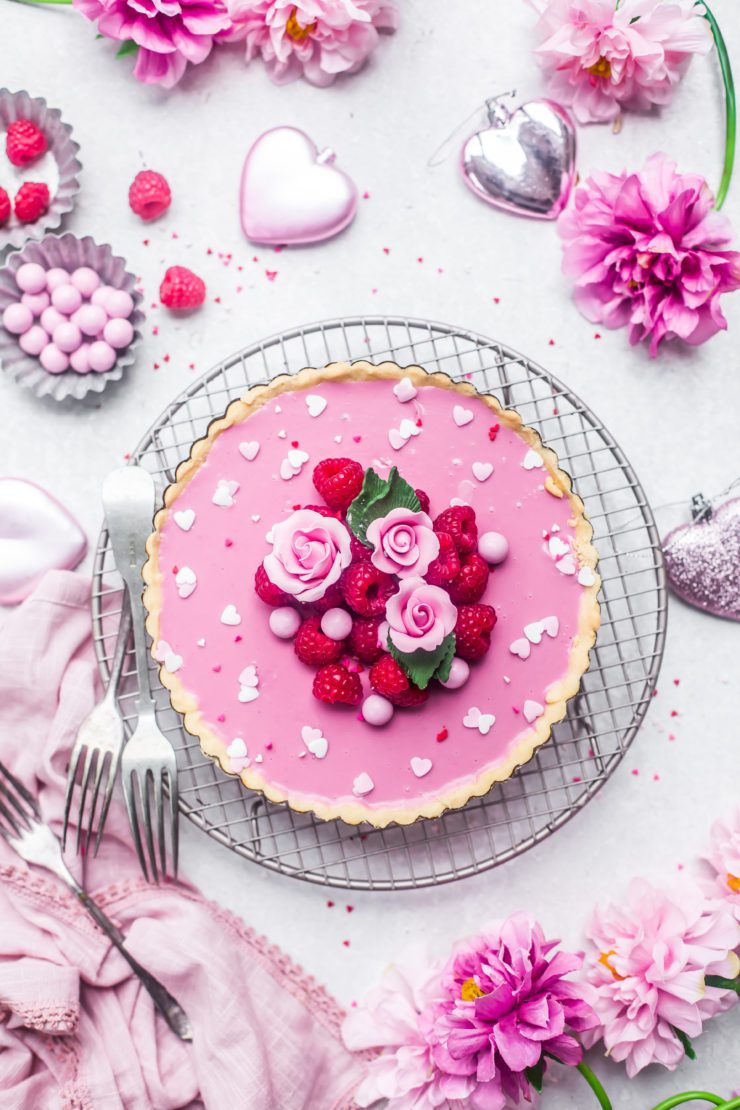 Of course, it is the season of hearts and pretty, pink desserts. I make them round the year anyway so coming up with another pink dessert is not that hard. I actually enjoy it! This raspberry ganache tart is made with real raspberries that add a lovely tart flavour and a beautiful pastel pink colour to the tart.

It's summer in Australia so a no-bake dessert is perfect for us plus being egg free , it's a great option for vegetarians too. If you don't want to use gelatine, you can swap it with agar that's a plant based setting agent. The taste is unique, berry like and also sweet and I definitely recommend, you give it a go for flavour alone.

What are your favourite Valentine's day treats" If you like to bake, check out this easy Raspberry and Yoghurt Cake or this Neapolitan Cake topped with buttercream roses.
Raspberry Ganache Tart
Makes an 8 inch round tart

200 g digestive biscuits or cookies of your choice
100 g unsalted butter, melted
1 cup raspberries
2 tbps castor sugar
1 tsp powdered gelatine
200 ml thickened cream
250 g white chocolate buttons
25 g unsalted butter
pink food colour (optional)

Place the biscuits in a food processor and pulse until fine crumbs form. Add the melted butter into the processor and pulse again to combine. Press the biscuit mixture onto the base and sides of a 8 inch fluted tart pan until uniform. Place the tart pan on a baking tray for ease of movement and store the tra...
URL de la Fuente:
http://www.sugaretal.com/
--------------------------------
Mini Crčme Brűlée Cheesecakes
-------------------------------------