Spicy Shrimp Udon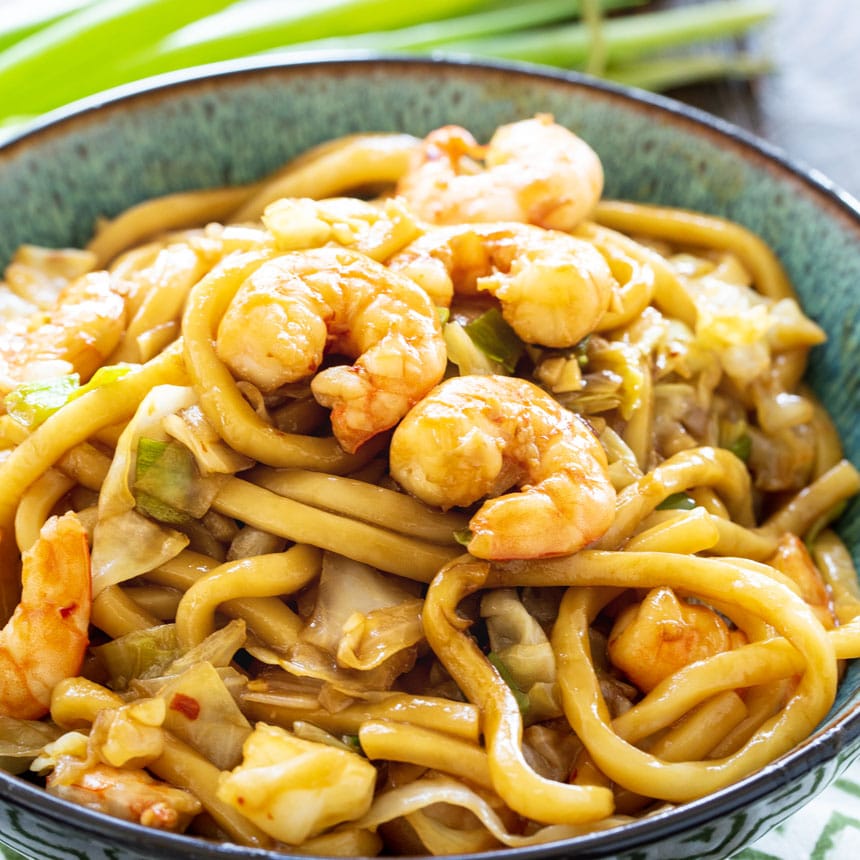 Spicy Shrimp Udon- large, succulent shrimp, cabbage,  oodles of noodles, and a richly flavored sauce with plenty of spice make this dish a fan favorite.


Udon noodles are my favorite type of noodle to order at Asian restaurants. I love the soft, chewy texture of these thick noodles. Recently I discovered my local Publix has fresh udon noodles in the produce section. You just drop them in boiling water for a few minutes and they are ready. So easy to add to stir-fries.
This easy and flavorful Asian meal can be made start to finish in under 20 minutes.
How To Make Spicy Shrimp Udon:
First you'll cook and drain the noodles. Make sure you have all your other ingredients measured and ready to go. You can do this while the water comes to a boil.
Next, heat the vegetable oil in a wok or large skillet over high heat. Stir fry the cabbage, adding a little sugar and soy sauce for flavor.

Next add the garlic, followed by the shrimp and red pepper flakes. Stir fry just until the shrimp turn pink. Add the noodles, remaining sugar, remaining soy sauce and the oyster sauce and stir fry for one minute more. Sprinkle with green onions and you are ready to dish up.
A combination of crushed red pepper flakes and Sriracha sauce gives this dish a nice amount of heat. You can serve it with a little more Sriracha sauce if you want it even spicier.

Try These Other Better Than Take-Out Recipes:

Asian Garlic Tofu
Shrimp Toast
Japanese Zucchini
Thai Chicken Pasta
Mongolian Beef...
URL de la Fuente:
http://spicysouthernkitchen.com/
--------------------------------
The Right Whisk for the Job- Kitchen Conundrums with Thomas Joseph
-------------------------------------