Deviled Crab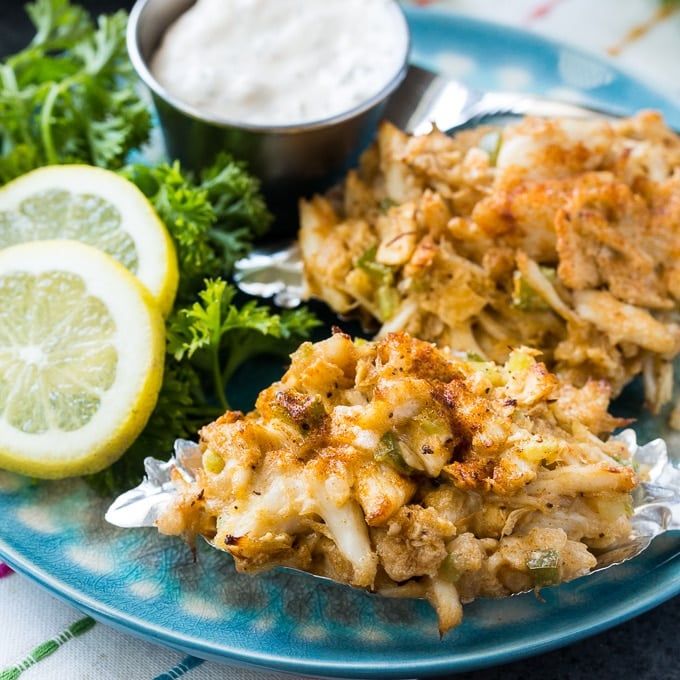 This delicious Deviled Crab is just the treat for when you are cooking a meal at the beach or want to be reminded of the beach. They taste just like the deviled crab you order at your favorite beach side seafood restaurant, only much better. They are absolutely loaded with crab with very little filler.


You can order little tin crab shell trays on Amazon to make them in or use real crab shells if you are fortunate enough to have them.
To make Deviled Crab, one pound of fresh crab (you can use lump or backfin) gets mixed with a little sauteed onion, celery, and green pepper. To bind the mixture and make it moist and creamy, one egg and 1/2 a cup of mayonnaise get added plus 3 tablespoons of heavy cream.


Crushed saltine crackers get added for the filler. There's just enough cracker crumbs to help hold everything together and add a little breading. For seasoning, Worcestershire sauce, Old Bay, paprika, and garlic powder get added. The mixture can be made ahead of time and stuffed into the shells and refrigerated until needed. They only need about 20 minutes in a 350 degree oven before they are ready to serve.

More Crab Recipes

Crab Rangoon Dip
Crab Mac and Cheese
Crab Melts
Hot Crab Dip

Deviled Crab

These Deviled Crab are full of fresh crab meat with just the right amount of filler.

4 tablespoons butter
1/2 medium onion, (finely diced)
1 celery rib, (finely diced)
1/2 green bell pepper, (finely diced)
1 pound lump or backfin crabmeat
1/2 cup may...
URL de la Fuente:
http://spicysouthernkitchen.com/
--------------------------------
5 Essential Trips For Any Food Lover
-------------------------------------