Bacon-Braised Red Potatoes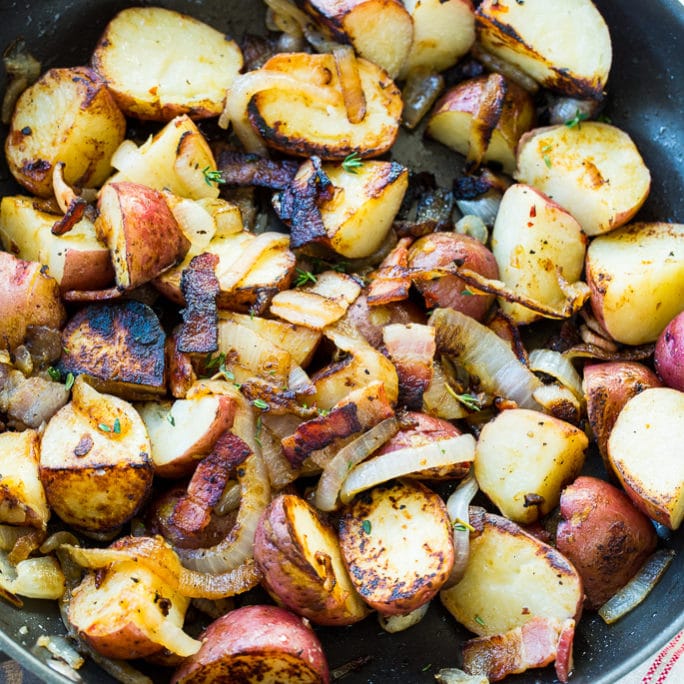 Bacon-Braised Red Potatoes make an easy side dish and they have tons of bacon flavor . In addition to bacon, they are also flavored with onion and thyme. They make a great side for chicken, pork, or steak.

How To Make Bacon-Braised Red Potatoes: 
Small red potatoes are cut in half and placed cut side down in a large nonstick skillet. Two and a half cups of water, a sliced onion, 2 slices of chopped bacon, salt, pepper, and a few red pepper flakes are added. The water is brought to a simmer and the pan is covered for 15 to 18 minutes to get the potatoes soft.


Next the pan is uncovered and the heat is cranked up so there is lots of evaporation. Once all the water evaporates, the potatoes and the bacon get crispy.
Bacon-Braised Red Potatoes are crispy and brown on the outside and wonderfully soft and creamy on the inside. Braising potatoes is a different and delicious way to cook them. Recipe Tips:
Rosemary can be used instead of thyme.
These potatoes have a little heat from the crushed red pepper flakes. To make them spicy, either double the amount of red pepper flakes or serve them with hot sauce.


For another delicious potato side dish, try these Melting Potatoes.


Print

Bacon-Braised Red Potatoes

Course Side DishCuisine AmericanKeyword braised

Prep Time 5 minutesCook Time 32 minutes

Servings 4
Calories 205kcal

Ingredients1 1/2 pounds small red potatoes, unpeeled and halved2 1/2 cups water1 onion, halved and sliced 1/2-inch thick2 sl...
URL de la Fuente:
http://spicysouthernkitchen.com/
--------------------------------
One Pan Italian Fish Stew
-------------------------------------